News
FastHouse Innovative building technique aims to reduce shortages in the housing sector
17th March 2017
A new housebuilding solution has the potential to "transform the building process and reduce the shortages in the housing sector in Northern Ireland by cutting completion times by an average of 70 per cent". That's according to FastHouse, a modular construction company which has announced the employment of 30 people in Limavady.
The company has completed the first two semi-detached homes in Windrush Park, Antrim utilising off-site construction technology which reduced the construction period from 16 to three weeks.
FastHouse's modular off-site timber system not only brings the benefit of speed – as buildings are largely constructed in a controlled factory environment – the process also facilitates improved health and safety standards, reduced waste and better quality. This method of construction is providing an innovative solution to the growing demand for quality housing.
A UK Government White Paper released last month highlighted the benefits of modular build construction to address the 'broken' housing market. Housing Growth Indicators developed as part of the government's Regional Development Strategy identified an estimated need for some 190,000 new dwellings to be constructed in Northern Ireland over the period 2008-2025. However, a recent RICS report highlighted that 50 per cent of the construction sector reported a shortage of skilled labour.
FastHouse has stated that the innovative technique that the modular process provides will enable quality homes to be built more quickly and is vital if Northern Ireland is to tackle the shortage of housing and skills in the local market.
Stephen Bell, managing director of FastHouse said: "Traditional construction methods have changed very little over the decades due to the conservative nature of the industry. Even the use of traditional timber frame construction in NI only accounts for 15 per cent of new build homes compared to 33 per cent in England and 75 per cent in Scotland.
"We are delighted to complete our first project for Lagan Homes which has resulted in a fully completed house within three weeks of the FastHouse installation team first moving on site. We strongly believe that off-site manufacturing isn't the future of the housebuilding industry, it's the today."
FastHouse's signature closed panel timber frames leave the factory insulated with service conduits and electrical boxes installed, windows pre-fitted and dry lined, ensuring minimal waste and maximum efficiency.
Conor Mulligan, managing director of Lagan Homes, part of the Lagan Group added:
"We are all aware of the housing crisis in Northern Ireland and we can see first-hand the contribution FastHouse has been able to make to this development at Windrush Park. "By building quality homes in an extra efficient way, FastHouse will significantly speed up housing provision in Northern Ireland as well as advancing the sustainability agenda. For the builder, in this climate of limited bank lending, the ability to increase turnover of 'work in progress capital' from three times a year to perhaps ten times a year will have substantial appeal."
Related Posts

Come along and meet the team!
Open Recruitment event 4 May 2022 Come on in and get a feel of how good it is to work…
View post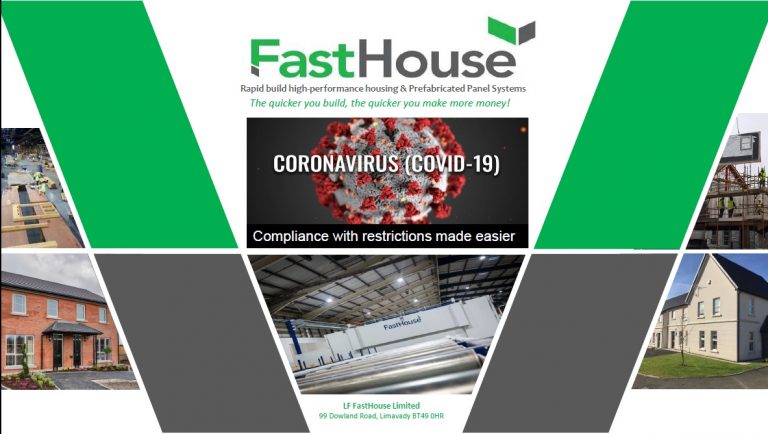 FastHouse new presentation on COVID-19 compliance now available
Cornavirus COVID-19 - Compliance with restrictions made easier The purpose of this presentation is to highlight the challenges that…
View post