News
British builders planning for 'prefab' future due to shortage of skilled labour after Brexit
21st March 2017
The prospect of Brexit choking off the supply of EU workers is reshaping Britain's home-building industry, with big companies increasingly looking to factory-manufacture houses in sections that can be slotted together on-site with minimal labour.
Many of Britain's leading housebuilders, including Berkeley, Taylor Wimpey, Persimmon and Your Housing, told Reuters they were either planning or considering new developments of prefabricated homes.
This represents something of a turnaround in a country where "prefabs" have borne a strong and lingering stigma dating back to the 1940s when Winston Churchill ordered tens of thousands of cheap, flimsy, ugly units built to address a shortage housing after WWII.
The change is being fuelled by fears over a labour shortage in the UK, which relies heavily on European carpenters, joiners and bricklayers. About 12pc of its 2.1 million construction employees come from abroad, mainly the EU, according to official figures. The trend is amplified in London where a quarter of the 350,000 construction employees come from other EU countries, particularly eastern Europe.
Brexit threatens the flow of skilled labour at a time when the country faces another housing shortage and is looking to build a million homes by 2020.
It is driving a resurgence in so-called offsite construction which allows anything from bathroom pods and chimneys to entire houses to be manufactured in factories, transported by trucks to the site and bolted together. While this involves a bigger initial investment, it requires a fraction of the labour of traditional construction.
"Fundamentally, the construction industry has been doing some things the same way for hundreds of years. Historically, we had the labour … But the challenge is different now," said Berkeley chairman Tony Pidgley. Berkeley is producing its first ever factory-built homes this year. It is starting small, with 16 prefabs in southeast London, but has another 50 in the pipeline for the capital and plans to gradually expand the programme.
The company said it had a target of building 10pc to 15pc of all its houses using modular construction in the "short to medium term".
Factory work could be carried out by fewer, and relatively unskilled, workers as most processes were automated.
Your Housing, which has a greater focus on social housing, is taking a different approach, partnering with Chinese companies on far bigger projects.
It said it was finalising an agreement with China National Building Material and WeLink for a £2.5bn (€2.8bn) joint venture to build six prefab factories in Britain, one a year to 2022, with the aim of producing thousands of homes.
Your Housing executive director Stephen Haigh said Britain's EU withdrawal would challenge traditional building, allowing factory-based construction to flourish.
Mark Farmer, author of a government-commissioned review into the construction sector labour market late last year, said the Brexit vote was forcing companies to look at offsite building techniques.
"I'm not talking about a few thousand units, I'm talking about investors and developers that control the development of tens of thousands of units," Farmer said.
Factory-based construction accounted for 15pc of the total in Germany and Japan, according to data from engineering consultancy Arcadis.
The quality of prefab homes today is equal to those built using traditional techniques. But the big upfront investment to set up factories means they currently cost significantly more, with builders taking the hit as they must still offer homebuyers competitive prices. As the method gains popularity, production costs are expected to fall sharply.
Irish Independent
Related Posts

Come along and meet the team!
Open Recruitment event 4 May 2022 Come on in and get a feel of how good it is to work…
View post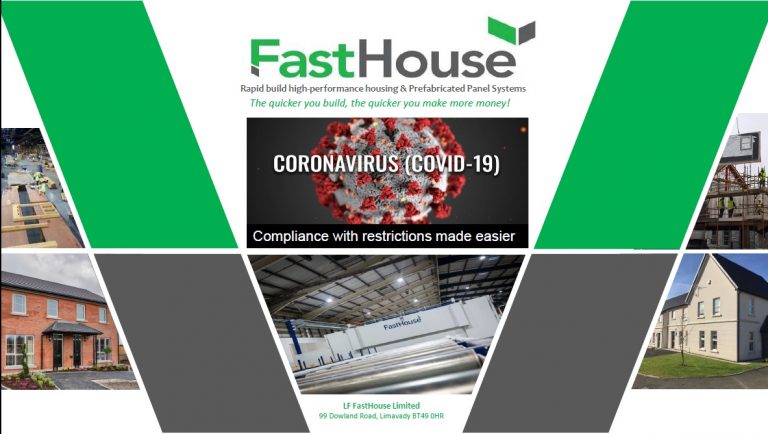 FastHouse new presentation on COVID-19 compliance now available
Cornavirus COVID-19 - Compliance with restrictions made easier The purpose of this presentation is to highlight the challenges that…
View post