News
Making a compelling case for timber systems – FastHouse
14th April 2017
Until now, the greatest period of timber building was between 1200 and 1700 AD. Fast forward over 300 years and we are now truly realising the full capabilities of this strong, sustainable and technically-advanced structural solution. Here, Alex Goodfellow, Chairman of the Structural Timber Association and Group Managing Director of Stewart Milne Timber Systems, shares his technical insight.
Driven by intelligent and integrated construction solutions, innovations in the product portfolio such as closed panel timber frame and structural insulated panel systems (SIPS) has increased specification. The dynamic and fast-moving pace of the sector delivers a vast array of buildings through innovative construction methods that have a direct impact on transforming communities. The structural timber industry is geared for capacity and has the skills and materials to rapidly respond to create a world-class off-site manufacturing sector in the UK.
Off-site manufacture for on-site installation cuts the cost of construction projects significantly as the requirement for labour and materials is lower. Windows and door frames can be factory fitted during manufacture, which reduces carpentry costs and there is less reliance on traditional trade skills. An accelerated build time reduces site prelim expenditure and provides a quicker return on capital outlay. Transportation costs are also reduced as timber systems are delivered in time for construction and waste material is recycled, so nothing is transported to landfill. 
Off-site construction methods reduce the potential impact of bad weather on build times and swift weather-proofing of the structures diminishes delays for follow on trades. This makes off-site timber construction the most viable option when working to meet the shortfall, for example, in housing stock. From a cash flow perspective, shortening the cycle from outlay to sale or occupation means that ramping up volume can be achieved without the same capital employed as traditional means.
Developers, architects and engineers are beginning to recognise the impact of building details and specification on in-use energy performance and are keen to promote best practice. It is important to specify the right structural timber solution for the job – a system that can not only meet the budget, but also the loadbearing and performance requirements.
Energy-efficient buildings are achieved through good building fabric design, optimising the performance of the building envelope. There is a vast array of options within the timber technology portfolio that can deliver high-performance building envelopes including:
Structural insulated panel systems
Structural insulated panels (SIPS) are engineered, load-carrying, timber-based panel products that can be used in walls and roofs of residential and commercial buildings. SIPS are an advanced method of construction, exploiting composite panel techniques – delivering excellent structural and thermal characteristics in one system. SIPS have two parallel faces – usually oriented strand board (OSB) – sandwiching a rigid core of polyurethane (PUR) foam. The result is a lightweight system which is quick to erect and free from the complications surrounding compression shrinkage and thermal bridging, that is often associated with other forms of construction.
Delivering rapid and robust energy-efficient buildings, with superior insulation, structural strength and airtightness – SIP systems are used for walls, roofs and floors. Structural insulated panels offer extremely high thermal performance throughout the lifecycle of the building, whilst minimising wall thickness. The polyurethane (PUR) core of rigid insulation and OSB3 facing panels achieve U-values as low as 0.10 W/m²K, making significant savings on operating costs.
Using SIPS technology reduces build programmes enabling developments to be completed much faster than conventional building methods. If the design facilitates habitable space in the roof zone, then SIPS are a fantastic solution, as they do not require roof trusses, ensuring maximum space availability, whilst providing superb thermal performance and limited air leakage.
There are two fundamental applications for SIPs – a full structural wrap or infill walling – in all cases the product will be engineered for loadbearing capability, racking resistance and wind loading requirements.
SIPS are often specified as infill to steel, concrete or engineered timber structural frames and can sit inside or outside the frame itself. Infill walling is incredibly quick to install, making it an innovative solution for high-rise residential applications to deliver a rapid dry building envelope.
Structural insulated panels systems can be used to form a loadbearing full structural wrap. Currently five storeys are the maximum practical height for loadbearing SIP buildings. Above this, an additional structure needs to be incorporated into the building to carry the imposed load.
Timber frame copes excellently with complex designs. From single- to six-storey buildings, of any shape and size –
timber frames
have the added advantage of being able to offer both private and commercial developers a flexible building material. Modern timber frame structures are precision-engineered, strong and durable, although the same basic rules apply. The build method relies on timber frame as a means of structural support – carrying the loads imposed by the floors and roofs, before transmitting them to the foundations.
The construction of timber frame-based structures utilises factory manufactured wall panels, alongside floor and roof panels, which are often referred to as cassettes. The systems used are classified as either open panel or closed panel.
These are structural engineered panels that form the inside loadbearing leaf of the external wall, comprising studs, rails, sheathing on one face and a breather membrane. The open panel system is made from treated softwood timber framing, over which a structural sheet material of either Ply or OSB board is fixed.
These are made from studs, rails and insulation, with sheathings and/or linings on the faces of the panel. A vapour barrier is also provided on the warm side of the insulation and a breather membrane on the outer face of the panel. If desired, closed panels may also include fitted windows and internal service zone battens, for ease of installation and construction.
Timber frame currently accounts for around a quarter of new homes in the UK, with over 75% of self-builders using the product as their primary build method. This type of build method is utilised by every sector of the construction industry and is very popular with low- to medium-rise residential developers and student accommodation providers. As with all forms of structural timber, timber frame has superb environment credentials, as well as being quick and easy to construct. There is a wealth of information available to construction professionals on the Structural Timber Association website, from advice on structural timber systems to market reports and an online member's enquiry system.
Related Posts

Come along and meet the team!
Open Recruitment event 4 May 2022 Come on in and get a feel of how good it is to work…
View post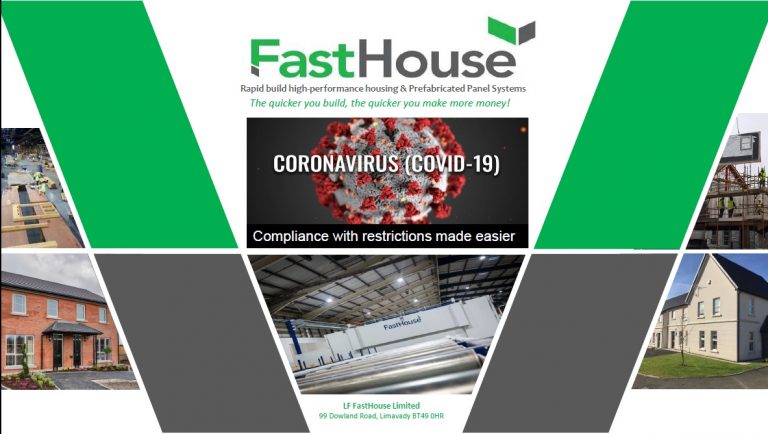 FastHouse new presentation on COVID-19 compliance now available
Cornavirus COVID-19 - Compliance with restrictions made easier The purpose of this presentation is to highlight the challenges that…
View post