News
Modern modular construction should be embraced as the future
27th April 2017
Jason Ruddle of Elecosoft discusses why modern modular construction can deliver innovative designs while providing a turnkey solution for the sector
The term 'modular' is bandied around increasingly often. Brought to a head by the recent housing White Paper, it looks certain that modular or pre-fabricated construction will become more central to the UK construction industry than ever before.
Modular thinking is broader than just building solutions marketed under that title. Although the term modular is often applied only to complete elements for standard applications, such as ready-to-install classrooms, retail units or bathroom pods, it applies to the vast array of sub-assemblies and pre-fab elements that construction already uses: door frames, timber wall frames, staircases, balustrades, and beyond.
The government has recognised that prefabricated approaches are an inevitable and necessary adjunct to traditional construction, especially in delivering essential homes rapidly. It explicitly hopes that the construction sector will extract the speed benefits of this route.  There are many other business benefits to be grasped too, however.  One danger, highlighted in the Farmer review, is that offsite is adopted for the wrong reasons. We should remember that driving quicker outcomes is only one benefit; others include improved quality and standardisation of build processes. The sector must embrace offsite pre-manufactured elements for the right reasons, incorporating modular into BIM strategies, to gain full value.
Skills accessibility
The most recognised business benefit of offsite construction is that it enables contractors to access specialist skills that are hard to find or utilise on-site, as well as mitigate the increasing scarcity of core building skills.  As Brexit impacts unfold, the ability to build or buy pre-fabricated elements may become business-critical.
Economies of scale
Many UK contractors have been reluctant to invest in their own offsite fabrication facilities. As they pursue the opportunities of volume housebuilding presented by the significant new funding, the economics may become more attractive. The speed of construction, allied with project production efficiencies, and the sales advantages it may confer at bidding stage, may well prove tipping points.
Project predictability
Manufacturing, or buying in ready-made modules, delivered 'just-in-time' for installation, brings much-needed predictability to projects which are, by their nature, subject to change. Concurrent production of elements alongside groundworks and foundation work could tighten project timelines by 50%-60%, according to some sources. Project benefits such as faster weather-proofing are appreciated – but you also gain quality assurance and control, thanks to controlled production conditions. Arriving complete with quality and safety certification, the cost and time for on-site checks and certification processes can be reduced significantly.
Safety benefits
Production in a controlled and predictable environment in the factory is standardised, bringing considerable safety benefits. It can eliminate swathes of risk by removing the need for certain working at height issues, for example, and make certain machinery unnecessary to hold or operate on site.
Ease of BIM
The benefits of modular thinking go hand in hand with BIM. With each module comes the potential for plug-and-play BIM object data, ready to plug into the BIM database. This could represent a welcome reduction in the cost of delivering BIM, but it relies on manufacturers ensuring that their production processes are fit for BIM: a new challenge for independents who have not been part of BIM change.  Increasing automation is inexorable in modern manufacturing, providing opportunities to design and drive production digitally, capturing the precise attributes and measurements of every output. Packaging it in ways that can be easily integrated into an IFC model will be essential; this is something that is integral to our own timber frame software application (Framing) and helping make our customers BIM-ready – yet it is far from universal across construction manufacturing software.
Innovation
As the construction industry tries to envisage a more agile, adaptable, modern future sector that continues to generate economic value, it must grasp every advantage and adapt to wider industrial change.  That means not just embracing digital construction, but also a smart future. Modular solutions are a turnkey way to incorporate innovations in design at the time of building, plus confer benefits on owners and end users since they offer ways to reconfigure, extend or upgrade sites to meet changing needs. However, other demands will emerge, as authorities and commercial entities explore the opportunities of digital technology and smart materials for creating the future built environment and smart cities.  As consumers increasingly demand ready-connected homes contractors will need to embrace new technology partners and sub-contractors. Building management will benefit too, but will drive change; building control and building environmental management systems (BEMS) and WiFi networking are today only often installed only at fit-out stage. Going forward, it is likely that modules and whole buildings pre-equipped with Internet of Things sensors, as well as other M&E attributes, may become more common.
The UK cannot hope to meet the demands for either housebuilding or the future digital needs of the country or its commercial owners, without embracing offsite and modular construction approaches more integrally than it does today. Contractors must continue to adapt and accelerate their adaptation if they are to be ready for the future.
Related Posts

Come along and meet the team!
Open Recruitment event 4 May 2022 Come on in and get a feel of how good it is to work…
View post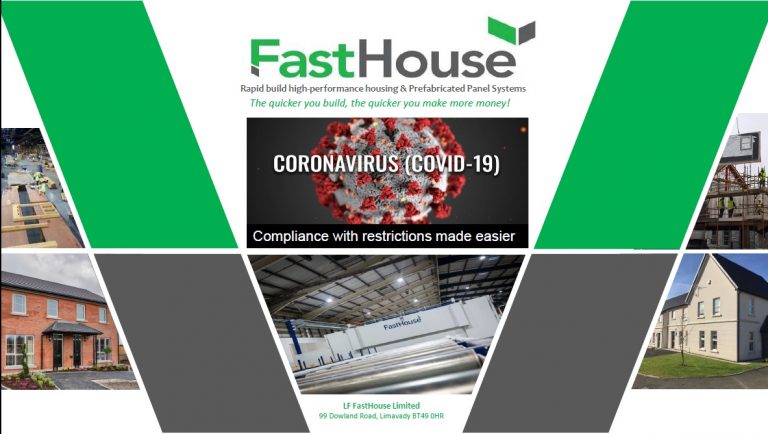 FastHouse new presentation on COVID-19 compliance now available
Cornavirus COVID-19 - Compliance with restrictions made easier The purpose of this presentation is to highlight the challenges that…
View post