News
Building for a better future
22nd May 2017
 
The Homes and Communities Agency (HCA) is tasked with helping create successful communities by making more homes and business premises available to the residents and businesses who need them. Sir Edward Lister, Chairman of the HCA outlines why offsite could play a major role in improving delivery.
I have been talking a lot recently about modern methods of construction. I believe expanding offsite manufacturing and other advanced construction technologies is essential if we are to address this country's housing shortage.
As the Government's recently-published Housing White Paper set out, we have got to build more homes and build them faster. Since the downturn, construction rates have steadily climbed to around 190,000 homes a year but continuing to rely on volume housebuilders and housing associations won't give us the sustainable growth in supply we need over the long term, through 'thick and thin'. We must innovate and my organisation, the Homes and Communities Agency, intends to lead the way in partnership with industry.
We are already actively supporting the use of offsite construction for both social homes and private sale and we want to encourage any construction innovation that speeds up the delivery of new homes, diversifies the supply chain or improves value for money.
The Housing White Paper confirmed that the Government is particularly keen to develop capacity for advanced housing manufacture, whether through offsite factories or dedicated onsite facilities. We will support the whole range of techniques, from structural insulated panels (SIPS) through to volumetric components. We are discussing plans for new factories with a number of developers and we will consider taking a direct stake in factories or provide loans for others to build and manage them. We will also put our own land forward for modular construction factories and we have already identified one site on which a factory will be built.
In his statement to the House of Commons announcing the Housing White Paper, Secretary of State Sajid Javid said that: "we will make it easier for small and medium-sized builders to compete." This is crucial because currently about 60% of homes are produced by just 10 builders. So we are also encouraging and supporting SME developers to use modern methods of construction to increase supply and speed up the time it takes to complete a home as well as encouraging new players to enter the industry.
Our £3 billion Home Building Fund – which launched in October 2016 – is available to developers that want to use offsite manufacture and we have already had more than 40 enquiries from companies in the sector. We completed the first deal in February with Skye Homes, a start-up company that is building a five-home development in the North West that will use SIPS provided by Neatwood Construction, another SME based in the Midlands. This is a small site being developed by an SME developer, showing that you can profitably undertake small-scale offsite manufacture and we will actively support small businesses that want to do this with the loan finance they need.
Modern methods of construction aren't new – as the NHBC Foundation research (see box out) has shown – three quarters of new homes in Scotland use these so it is high time that in England we caught up since we are only using it for 15% of our new homes. The HCA is here to help and we are looking to everyone in the housing sector to take up this challenge and ensure that we build the homes people need.
Source: Offsite Magazine – Issue 5 
Related Posts

Come along and meet the team!
Open Recruitment event 4 May 2022 Come on in and get a feel of how good it is to work…
View post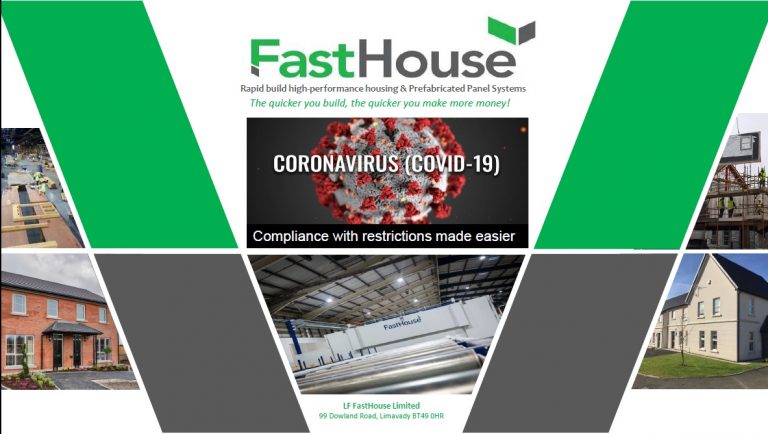 FastHouse new presentation on COVID-19 compliance now available
Cornavirus COVID-19 - Compliance with restrictions made easier The purpose of this presentation is to highlight the challenges that…
View post