News
FastHouse goes global
5th July 2017
FastHouse, a Northern Ireland modular housing firm based in Limavady, has exported its innovative new housebuilding solution to Ghana as it moves to secure mass housing and infrastructure related projects across Australasia, Africa and the Middle East.
Ghana has sought international assistance in delivery and finance as the Government works to address a significant housing shortage with a shortfall of 1.7 million units expected to rise to 2 million before the end of 2018. FastHouse has initiated a joint venture with Tradezone International Ghana Ltd to utilise its innovative offsite construction technology to manufacture housing from its Limavady facility which is transported to Ghana for assembly.
According to John Arnold, FastHouse's International Sales & Marketing Manager, FastHouse is committed to supporting important infrastructural development in regions across the world:
"We are actively exploring opportunities for expansion into markets from North Africa to Australasia. Ghana, as one of the more stable nations within the West Africa region has provided us with an opportunity to develop and grow our offering for customers. Our manufacturing process improves health & safety standards, reduces waste and improves quality. We are delighted to have successfully delivered our first residential housing pilot project in Africa as we look to new export markets."
FastHouse utilises a closed panel Rapid Build system which transforms the building process reducing completion times by an average of 70%.  With the engagement of local trades, the Ghana project progressed rapidly and construction took just seven days to complete.
Dr Forster Sarpong, CEO of Tradezone International commented: "We have been very impressed with this rapid build system of house construction and see great advantages for the Ghana market. Aside from the extremely short time of installation, it also provides, among other advantages, very good insulation and interior and exterior finish to suit the environment".  
Stephen Bell, Managing Director of FastHouse added: "By building quality homes in an extra efficient way, FastHouse continues to significantly speed up housing provision as well as advancing the sustainability agenda. With strong opportunities across Australasia, Africa and the Middle East we look forward to further growth in key export markets."
http://www.businesseye.co.uk/news/article/1222-fasthouse-goes-global/
Related Posts

Come along and meet the team!
Open Recruitment event 4 May 2022 Come on in and get a feel of how good it is to work…
View post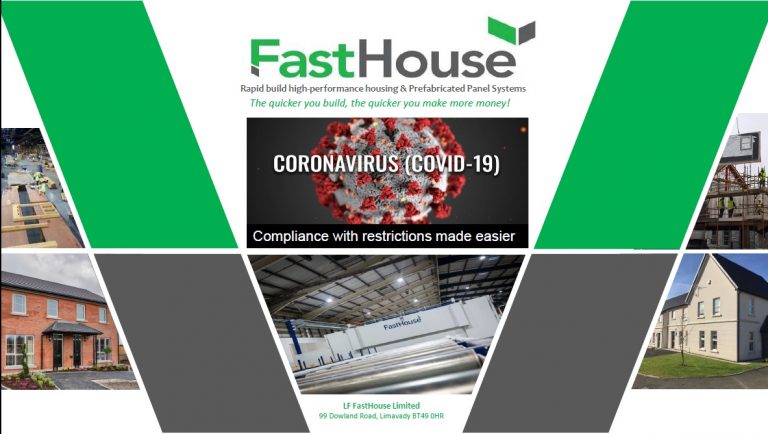 FastHouse new presentation on COVID-19 compliance now available
Cornavirus COVID-19 - Compliance with restrictions made easier The purpose of this presentation is to highlight the challenges that…
View post