News
Rapid-build homes key to social housing, says Eoghan Murphy
31st July 2017
Factory-built structures central to Minister's plans for 47,000 social housing homes.
Minister for Housing Eoghan Murphy is to make rapid-delivery housing a central plank of his plans to deliver 47,000 social housing homes in the next five years and address the problem of homelessness.
Mr Murphy will on Monday announce he has approved the construction of a further 70 rapid-delivery houses at three locations in Dublin city with a budget of over €15 million.
Rapid-delivery houses are typically factory-built structures in either wood, steel or modular form. The one development that has been completed so far, Baile na Laochra in Poppintree, Ballymun, cost €180,000 per unit. The life span of the units is 60 years.
According to the briefing document supplied to the Minister upon his appointment in May, some 650 rapid-delivery units will be completed in 2017 with a further 500 in 2018.
Mr Murphy is likely to increase that target across the State's local authorities, which are expected to deliver 23,000 social housing homes by 2021. Some of the early schemes, however, have fallen behind schedule.
Under the rapid-build programme, just 22 of the 1,500 homes promised by next year under Rebuilding Ireland have been completed to date.
Mr Murphy told The Irish Times over the weekend that rapid-delivery homes would play a central part in social housing delivery and said there was also potential for such factory-built homes on the private side.
First-rate homes
"These are first-rate homes with the highest standards and certification. And the private side is very much moving in that direction too. We now have a new framework for procurement in place for rapid, which means local authorities are going to be able to move far more quickly with them."
The 70 new units will be in Cherry Orchard, Ballyfermot (53 units); in Rathvilly Park, Finglas (13 units); and at Woodbank Drive, Finglas (four units).
The increasing reliance on rapid-delivery homes is a response to the lengthy time lag between the announcement of new social housing schemes, and the completion date of the actual buildings. With the current planning process and traditional building methods, the process can take well over three years between announcement and delivery.
The Government's overall plan on housing is to double the output to 25,000 new builds each year by 2021.
In the past week, Mr Murphy has also fast-tracked secondary legislation that will, in certain circumstances, allow valid planning permission to be extended beyond 10 years. Until now, a development could get a five-year extension on the original five-year term for which permission was granted. However, a second extension was not allowed.
The new statutory power will allow permission to be extended beyond 10 years for certain developments of 20 units or more. It is understood about 75 sites throughout the State are affected. These received planning permission a decade ago but construction was delayed because of the recession. The change will allow work to continue on these sites without a need to reapply for planning permission.
Source:  http://www.irishtimes.com/news/social-affairs/rapid-build-homes-key-to-social-housing-says-eoghan-murphy-1.3171737  Harry McGee  30 July 2017
Related Posts

Come along and meet the team!
Open Recruitment event 4 May 2022 Come on in and get a feel of how good it is to work…
View post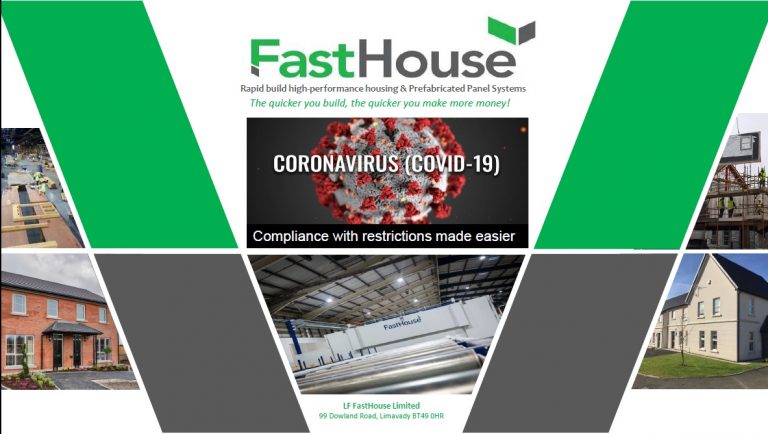 FastHouse new presentation on COVID-19 compliance now available
Cornavirus COVID-19 - Compliance with restrictions made easier The purpose of this presentation is to highlight the challenges that…
View post