News
NEW MARKETS FOR FASTHOUSE – MODERN CONSTRUCTION
6th November 2017
ENGLAND… 
FastHouse has successfully delivered on the manufacturing and installation of its Closed Panel Timber Frame System at Lagan Homes' Little Colliers site in Corby.
The Closed Panel Timber Frames were manufactured off-site at the FastHouse facility in Limavady, delivered to Corby in Northamptonshire by container and successfully installed in six days.
The Closed Panel Timber Frame System is the FastHouse core product.  Closed panels are factory fitted with insulation, electrical conduits and electrical boxes and finished internally.  The level of factory finishing is bespoke and can be adapted on a job-by-job basis to include factory installation of doors/windows, thermal break barriers and second fix electrical fittings.  Other FastHouse products include: Open Panel Timber Frame, ThermFast Bonded Panels, Leisure Lodges and AFS Logicwall.
Little Colliers, the first English assignment for FastHouse, not only resulted in high interest from a large number of prominent housebuilders but immediately lead to a large order of approximately 100 units for the year ahead.
ACCREDITATION… 
This year FastHouse has implemented an Integrated Management System and has successfully completed Stage 2 audit, with full accreditation anticipated by November 2017 in:
ISO 9001 – Quality Management System
ISO 14001 – Environmental Management System
ISO 18001 – Health & Safety Management System
IS 440 2009 – Irish Timber Frame Construction, dwellings & other buildings
PrEN 14732 – European Standard for Timber Structures, prefab walls, floor and roof elements
The accreditation follows a year of reviewing all operations and updating procedures and processes to reflect compliance.
Stephen Bell, Managing Director of FastHouse, commented:  "This is an outstanding accomplishment by our Team to achieve these certifications simultaneously.  Obtaining our ISO, NSAI and European certifications is consistent with many of the other Lagan businesses; and will help create further opportunities in new markets and allow us to continuously grow our business.  2018 will see us entering the Irish market, in particular."
For further information on FastHouse – please visit www.fast-house.eu
Related Posts

Come along and meet the team!
Open Recruitment event 4 May 2022 Come on in and get a feel of how good it is to work…
View post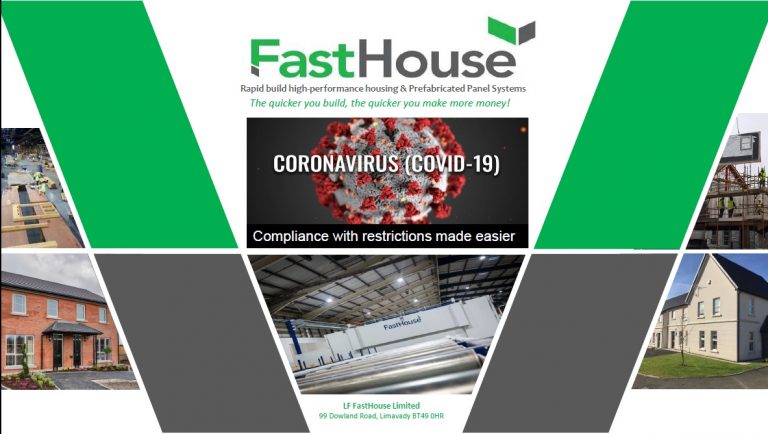 FastHouse new presentation on COVID-19 compliance now available
Cornavirus COVID-19 - Compliance with restrictions made easier The purpose of this presentation is to highlight the challenges that…
View post