News
FASTHOUSE INVESTS TO EXPAND PRODUCTION
21st February 2018
The installation of a third production line at Northern Irish manufacturing firm, FastHouse, will lead to new production capability and capacity to help meet growing demand in off-site construction, in particular for supply to the housing market.
FastHouse installed its third production line in November 2017, 12 months after commencing production for its first project.  All lines will be fully operational by mid-February 2018 (once testing has completed) and will allow for an output capability in excess of 1,500 houses per annum.
Based in Limavady, the highly automated FastHouse manufacturing facility extends to 200,000 sq ft.  The company manufactures modular open and closed panel timber frame systems, primarily focused on the housing market but capable of being utilised across other leisure and commercial projects.
A recent FastHouse installation of a set of semis using its closed panel product completed in two days (to weathertight stage).  Closed panels are factory fitted with insulation, electrical conduits & boxes and finished internally. The level of factory finishing is bespoke and can be adapted on a job-by-job basis, to include factory installation of doors, windows, thermal break barriers.
Additionally, FastHouse is the manufacturing partner for AFS Logicwall, a permanent formwork structural concrete walling system suitable for multi-level housing projects.
The Company is connected with Belfast-based Kevin Lagan, Chairman of the Lagan Group of Companies.
For further information on all FastHouse products please visit www.fast-house.eu .
Structural Timber Magazine Feb 18:   http://issuu.com/radarcommunications/docs/st_magazine_winter_issue_14?e=15424601/58196173
Related Posts

Come along and meet the team!
Open Recruitment event 4 May 2022 Come on in and get a feel of how good it is to work…
View post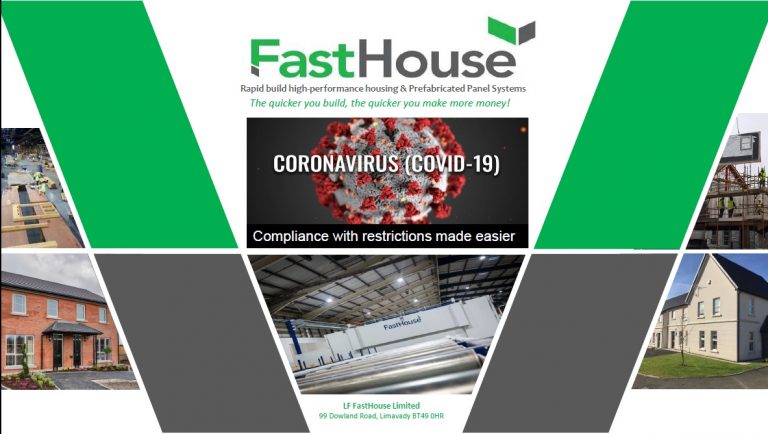 FastHouse new presentation on COVID-19 compliance now available
Cornavirus COVID-19 - Compliance with restrictions made easier The purpose of this presentation is to highlight the challenges that…
View post