News
Limavady manufacturer FastHouse adds 30 staff in response to growing demand
24th April 2018
LIMAVADY manufacturer FastHouse has responded to ongoing growth in the business with the creation of 30 new jobs.
The off-site construction manufacturer, who last month won a contract to build 470 holiday lodges at new Center Parcs in Longford is adding a new production line and a second shift in response to growing demand.
The new roles will mean that staff numbers have increased by 200 per cent over the past year. The positions being created include permanent and temporary opportunities for general operatives, skilled joiners, design technicians, IT engineers, supervisors and project managers.
FastHouse managing director, Stephen Bell said the latest investment will significantly increase the company's output.
"FastHouse has invested in the very latest manufacturing and production line technology – the introduction of the new second shift and associated jobs will potentially increase FastHouse's production capability to 1,500 units per annum. This output capacity makes the factory one of the largest producers of off-site panelised wall systems in the UK. We are all incredibly excited about the future of FastHouse and look forward to growing the team."
"Our continued commitment to innovate as we strive to stay ahead of the curve is being rewarded with exciting new contracts which underline the confidence in our methodology and brand," he added.
FastHouse manufactures modular open and closed panel timber frame systems for the construction industry and is part of the Lagan Group of companies.
Kevin Lagan, majority shareholder of FastHouse, recently announced the sale of his materials division of Lagan Group for £455 million to Breedon. FastHouse is not part of the sale.
SOURCE:  http://www.irishnews.com/business/2018/04/24/news/limavady-manufacturer-fasthouse-adds-30-staff-in-response-to-growing-demand-1311784/
Related Posts

Come along and meet the team!
Open Recruitment event 4 May 2022 Come on in and get a feel of how good it is to work…
View post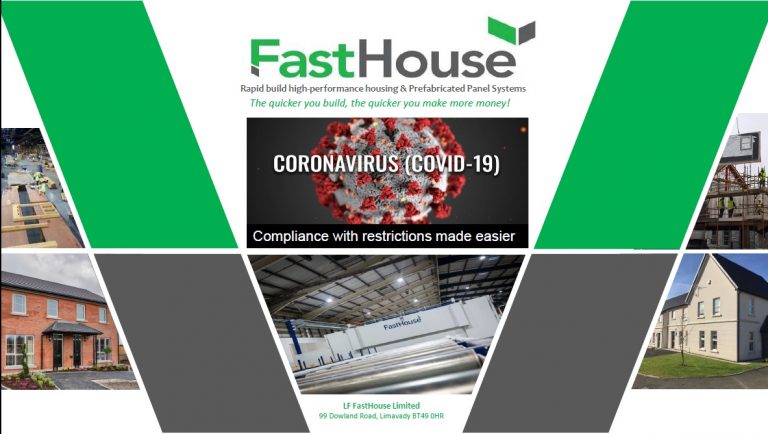 FastHouse new presentation on COVID-19 compliance now available
Cornavirus COVID-19 - Compliance with restrictions made easier The purpose of this presentation is to highlight the challenges that…
View post